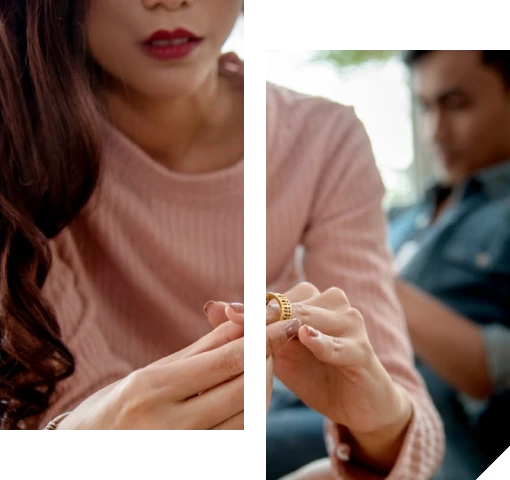 Voted Best Lawyer 2024 Divorce Attorney
At Raza Family Law Solutions, our divorce attorneys provide reliable, solutions-driven legal guidance and support to our clients. With a sole focus on family law and a commitment to peaceful solutions, our law firm provides personalized guidance and support. To set up an appointment with a divorce lawyer, please contact our legal team today.
An Overview of Divorce in Missouri
Are you preparing for a divorce? It is crucial that you understand how the process works. Divorce is largely governed by state law. Here are four key things to know about how divorce works in Missouri:
No Fault Divorce: All divorces in Missouri are "no-fault" divorces. The only grounds for divorce is that the marriage is irretrievably broken.
Legal Separation Not Required, But is an Option: Missouri does not require couples to legally separate before filing for a divorce. However, it is an option in the state. A couple can obtain a legal separation instead of a divorce.
Equitable Distribution: In Missouri, a married couple's property and assets will be divided "equitably" in a divorce. An equal split is not guaranteed by law. The specific facts of the case always matter.
Public Policy Emphasizes Best Interests of Child: For parents with young kids or teenagers going through a divorce, it is important to know that the best interests of the child standard will govern your custody case. The child's needs and interests come first.
We Take a Mindful Approach to Family Law
With an exclusive focus on family and divorce, we strongly believe in taking a mindful approach to family law. Our divorce lawyers understand that matters of the family can be emotionally charged and deeply personal, and we strive to handle each case with sensitivity and care. Our firm has experience with mediation, attorney assisted mediation, cooperative, and collaborative law. Our goal is to help clients navigate the often complex and challenging world of family law with confidence, security, and true peace of mind.
How a Divorce Lawyer Can Help
We know that going through a divorce is never easy. There are so many emotional, personal, logistical, and legal challenges. At Raza Family Law Solutions, it is our core mission to help our clients find peaceful, family law answers that actually work. We are proactive and collaborative. More specifically, our divorce attorneys are prepared to:
Answer your questions and explain your rights/options;
Help you get prepared and organized for the divorce process;
Take action to protect your rights and your best interests.
Contact Our Divorce Attorney Today
At Raza Family Law Solutions, our divorce lawyer is a solutions-focused advocate for clients. With extensive experience handling divorce mediation, we always work to help people find peaceful, cost-effective answers to their family law issues. Contact us today to set up a confidential, no obligation consultation. We provide divorce representation in St. Louis County, St. Louis City, St. Charles County and throughout the wider region.
Schedule Consultation
We Are Here to Help
Practice Areas
View All
Testimonials
Sophy Raza and her associate attorneys were knowledgeable, professional, patient, and skilled on how to deal with toxic, high conflict people. Sophy is also highly respected by other attorneys, which matters in divorce cases. They're also very responsive and stay on top things. Highly recommended.
Diane
View More