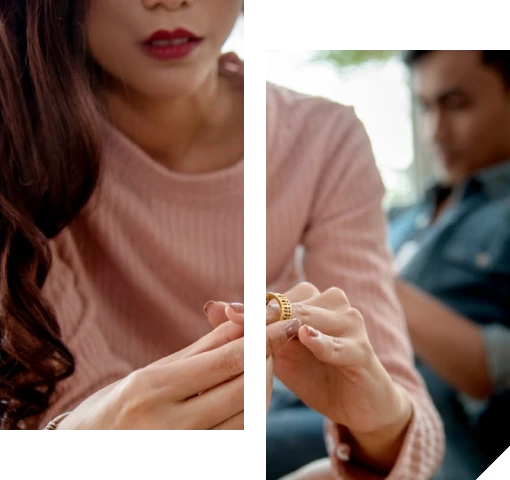 Prenuptial/Postnuptial
Agreements
At Raza Family Law Solutions, our prenuptial/postnuptial agreement lawyers have the skills and experience that you can count on. Our firm has an exclusive focus on family law and we are committed to the principles of collaboration and cooperation. If you have any specific questions or concerns about prenuptial/postnuptial agreements, we are here to help. Contact our family law attorneys today to arrange a confidential, no obligation consultation.
What are Postnuptial Agreements?
Most people are broadly familiar with the concept of a prenuptial agreement (prenup). Far fewer people are familiar with postnuptial agreements (postnups). Both types of these agreements are a contract that a couple signs that defines their rights and responsibilities in the event of a divorce, separation or death. The big difference between a postnup and a prenup is when it is signed. A couple can sign a postnuptial agreement after the start of their marriage, while a prenuptial agreement is signed prior to the marriage.
An Overview of Prenuptial/Postnuptial Agreement Laws in Missouri
At its core, these agreements area voluntary contract. In Missouri, the rules and regulations around prenups/postnups are governed by both statutes and case law. While the state allows spouses to negotiate and enter these agreements as they see fit, there are certain procedures that must be followed and certain standards that must be upheld for the agreement to be enforceable. Here are three key things to know about prenups/postnups :
Must Be Entered Freely, Fairly, and With Full Disclosures: In Missouri, a prenup/postnup can only be upheld if it was entered into by each party freely, fairly, in good faith, and with full disclosures. Both spouses should have their own family lawyer.
You Can Use a Prenup/Postnup From Property Issues and Spousal Support: These agreements can be used for certain property and financial matters and also can be used to determine property division and spousal support in the event of a future divorce or separation. Lastly, these agreements are used to agree on what happens to property in the event of the death of one of the spouses.
You Cannot Use a Prenup/Postnup for Child Custody or Child Support: The law strictly prohibits the use of prenuptial/postnuptial agreements for child-related issues, including custody, visitation, and child support..
How A Family Lawyer Can Help With Prenup/Postnuptial Agreements
Negotiating and drafting a prenuptial or postnuptial agreement is complicated. At Raza Family Law Solutions, we help our clients arrive at agreements that effectively protect their rights and their interests. Among other things, our family law attorneys are prepared to:
Hear your story and answer your questions about prenuptial/postnuptial agreements;
Gather all of the supporting documents and records and you will need; and
Take an approach focused on helping you find collaborative and cooperative solutions.
Call Our Prenuptial/Postnuptial Agreement Attorney for a Confidential Consultation
At Raza Family Law Solutions, our family law attorneys have the skills and experience to draft, negotiate, review, and litigate postnuptial agreements and prenuptial agreements. Contact us via the link provided to arrange a confidential, no obligation consultation. We provide family representation in St. Louis County, St. Louis City, St. Charles County and throughout the wider region.
Schedule Consultation
We Are Here to Help
Practice Areas
View All
Testimonials
Sophy Raza and her associate attorneys were knowledgeable, professional, patient, and skilled on how to deal with toxic, high conflict people. Sophy is also highly respected by other attorneys, which matters in divorce cases. They're also very responsive and stay on top things. Highly recommended.
Diane
View More