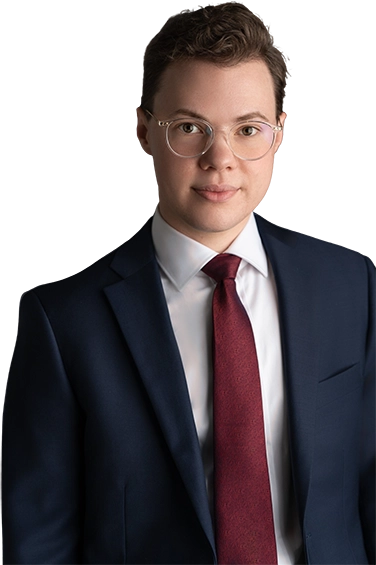 ATTORNEY
Ollie Caron-Noble
I have always been drawn to work where I could help people and have a positive impact on my community, so the legal field drew me in from a young age.
I was admitted to the Missouri Bar in 2022, but my experience in the legal field started in 2015 when I got a job as a paralegal for a solo litigation practice. I've worked in a variety of environments and practice areas since then, ranging from a free legal clinic to the General Counsel's office for a local government agency. I have also been a legal volunteer for organizations including the ACLU of Oregon, Northwest Workers' Justice Project, and Dollar For (a non-profit focused on cancelling medical debt).
From divorce to advocacy
Journey to
Family Law
After experimenting with a multitude of practice areas during law school, family law ultimately won me over. Family law appeals to me because I am energized by advocating for clients in difficult life circumstances and am comfortable bearing witness to the challenging emotions that can come with the territory. As a new attorney, I'm extremely lucky to have a mentor in Sophy – working with and learning from one of the best family law attorneys in the area is definitely the best perk of my job.
I'm originally from a small town near Albany, New York and am the first attorney in my family. I spent six years in Portland, Oregon after graduating from college, which is where I met my partner and went to law school. We moved to St. Louis in 2022 to set down roots closer to his family and we now live in South City with our two cats. I love to cook, spend time outdoors, and make art (which you might find me selling at an occasional weekend craft fair).
Education

Education

Lewis & Clark Law School, Juris Doctor, cum laude (2020)
State University of New York at Purchase College, Bachelor of Arts in Political Science, cum laude (2016)
Legal Background

Legal Background

Law Clerk, Samuels Yoelin Cantor LLP (2020)
Legal Intern, Port of Portland (2019)
Law Clerk, Student Legal Services at Portland State University (2018)
Litigation Intern, Perkins Coie, LLP (2016-2017)
Paralegal, Law Office of Timothy Kebbe (2015-2016)
Credentials & Distinctions

Credentials & Distinctions

Certified Mediator, Conflict Resolution Center in St. Louis
Graduated with honors, Juris Doctor and Bachelor degrees
Best Brief Award, Lewis & Clark Law School (Legal Writing)
Completed requisite training to become a court-certified mediator in Oregon
Affiliations & Community

Affiliations & Community

Food Outreach – Volunteer
St. Louis Survivors Legal Support, Inc. – Volunteer Attorney
Outlaw, Lewis & Clark Law School – Former Co-President